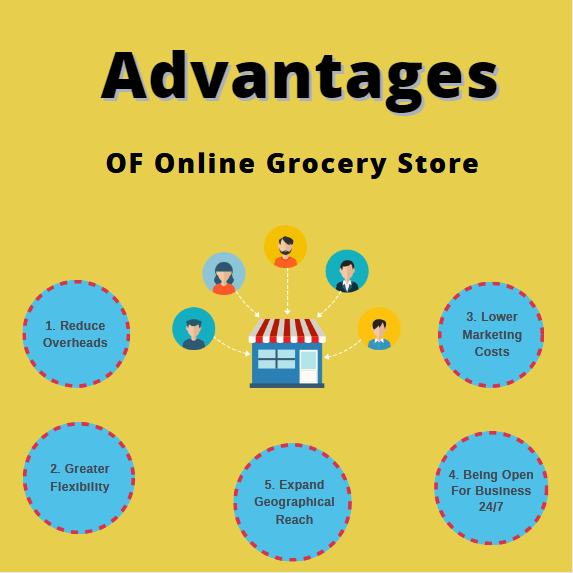 In this video, we explore the benefits of integrating a convenience store with online shopping. By combining the physical store experience with the ease and accessibility of online shopping, we can revolutionize the way we shop and provide a seamless shopping experience for customers. With the integration of online shopping, convenience stores can offer increased convenience to their customers. They can browse and purchase products from the convenience of their homes or on-the-go, and choose to have them delivered or pick them up from a nearby store. This eliminates the need to physically visit the store and saves time and effort. It's a win-win situation for both customers and store owners. Integrating online shopping also expands the product range available in convenience stores. Customers can access a wider variety of products, including those that may not be physically stocked in the store. This opens up more options for customers and allows them to find exactly what they're looking for. Say goodbye to limited shelf space and hello to endless possibilities!
Increased Convenience
Browsing and purchasing from anywhere
With the advent of online shopping, you no longer have to restrict your browsing and purchasing to physical stores. Now, you can shop from anywhere, whether you're at home, at work, or even on the go. The convenience of being able to browse through thousands of products with just a few clicks is unparalleled. You can take your time to compare prices, read reviews, and make an informed decision without feeling rushed or pressured by salespeople.
Delivery and pickup options
Gone are the days when you had to drive to the store to pick up your purchases or wait in long lines at the checkout counter. Online shopping offers various delivery and pickup options that cater to your needs and preferences. If you prefer to have your items delivered to your doorstep, you can choose from same-day or next-day delivery options. On the other hand, if you want to save on shipping costs or need your items urgently, you can opt for in-store pickup. These flexible options make shopping more convenient and customizable to fit your busy schedule.
Expanded Product Range
Access to a wider variety of products
Online shopping opens up a whole new world of products that may not be available in your local stores. From niche items to international brands, the online marketplace offers an extensive range of options for you to explore. Whether you're looking for the latest fashion trends, unique home decor pieces, or specialized tools, you can find them all online. The ability to access a wider product range means you're no longer limited by the selection at your nearest store, giving you more opportunities to find exactly what you're looking for.
No limitations on shelf space
Unlike physical stores, online retailers don't face the constraints of limited shelf space. This means that they can offer a much larger inventory of products, covering diverse categories and catering to various interests and preferences. Whether it's obscure collectibles, rare books, or specialty foods, online stores can stock a vast array of items without worrying about space limitations. This abundance of choices ensures that you can find even the most unique or niche products, opening up a world of possibilities for your shopping experience.
Personalized Shopping Experience
Tracking purchase history and preferences
When you shop online, your every purchase is tracked and stored in a database. This allows online retailers to build a comprehensive profile of your shopping habits, preferences, and history. By analyzing this data, they can offer you a personalized shopping experience tailored to your unique needs. For example, if you frequently purchase beauty products, they might recommend new arrivals or provide you with exclusive discounts on your favorite brands. This level of personalized attention makes the shopping experience feel more tailored to your interests and increases the chances of finding products that resonate with you.
Providing tailored recommendations and offers
Based on the information gathered from tracking your purchase history and preferences, online retailers can present you with tailored recommendations and offers. These recommendations take into account your past purchases, browsing behavior, and even the preferences of customers with similar interests. By curating personalized suggestions, retailers can help you discover new products that you might not have considered otherwise. This not only enhances your shopping experience but also saves you the time and effort of searching through countless options.
Improved Inventory Management
Real-time updates on product availability
One of the major advantages of online shopping for both customers and store owners is the ability to receive real-time updates on product availability. Online retailers can easily integrate their inventory systems with their online platforms, ensuring that the information provided to customers is accurate and up-to-date at all times. This means you can easily check if an item is in stock before making a purchase, saving you from the disappointment of placing an order only to be informed later that the product is unavailable.
Preventing stockouts
For store owners, effective inventory management is crucial to ensuring a smooth shopping experience and avoiding stockouts. With online sales, they can monitor the demand for different products more accurately. By analyzing sales data and customer trends, store owners can adjust their inventory levels accordingly and avoid running out of popular items. This proactive approach not only improves customer satisfaction but also helps businesses optimize their stock management processes, reducing the risk of lost sales and unhappy customers.
Benefits for Customers
Time and effort savings
One of the most significant benefits of online shopping is the considerable time and effort savings it offers. Instead of physically visiting multiple stores to find what you need, you can simply browse online and make your purchases with a few clicks. Online platforms also provide convenient search and filtering options, allowing you to quickly narrow down your options based on specific criteria such as price, brand, or customer reviews. This streamlined process saves you from the hassle of going from store to store, ultimately giving you more time to focus on other aspects of your life.
More options and convenience
Online shopping expands your options exponentially, giving you access to a vast selection of products that may not be available locally. Whether you're looking for a specific brand, a unique design, or a hard-to-find item, the online marketplace has it all. Additionally, the convenience of being able to shop from anywhere at any time further enhances the overall shopping experience. No longer bound by store hours or geographical limitations, you can browse and purchase products whenever it suits you, whether it's early in the morning, late at night, or even during your lunch break.
Personalized recommendations
With the personalized shopping experience offered by online retailers, you can enjoy tailored recommendations that match your interests and preferences. The algorithms used by these platforms analyze your purchase history, browsing behavior, and other relevant data to suggest products that align with your tastes. This level of personalization not only helps you discover new and exciting items but also saves you from spending time sifting through irrelevant options. By presenting you with products that are most likely to appeal to you, online shopping ensures that you make purchases that truly reflect your individual style and needs.
Easy access to products
Thanks to online shopping, you no longer have to endure the frustration of traveling long distances or searching countless stores to find a specific product. Whether it's a niche item, a limited edition release, or a particular brand that's not available locally, you can easily find it online. With just a few clicks, you can access a global marketplace that connects buyers and sellers from around the world. This ease of access opens up doors to a vast range of products, giving you the opportunity to find exactly what you're looking for without any geographical restrictions.
Benefits for Store Owners
Increased customer satisfaction
By embracing e-commerce and providing customers with the convenience of online shopping, store owners can significantly improve customer satisfaction levels. The ability to browse and purchase products from the comfort of their homes or while on the go saves customers time and effort, enhancing their overall shopping experience. Streamlined checkout processes, multiple payment options, and useful features such as order tracking further contribute to keeping customers happy and satisfied with their online purchases.
Repeat business and loyalty
When store owners invest in providing an excellent online shopping experience, they are more likely to attract repeat customers and foster long-term loyalty. By offering a wide range of products, personalized recommendations, and convenient delivery options, they create a positive impression that encourages customers to return for their future needs. Furthermore, the ability to collect customer data, such as purchase history and preferences, allows store owners to offer targeted promotions and rewards, further incentivizing customers to choose their online store for their ongoing shopping needs.
Improved inventory control
With real-time updates on product availability and the ability to prevent stockouts, online shopping offers store owners improved inventory control. Accurate and up-to-date inventory information ensures that customers are not faced with disappointments due to unavailable products or delayed deliveries. By closely monitoring customer demand and stock levels, store owners can make informed decisions about restocking, seasonal trends, and promotional offers. This proactive approach helps prevent overstocking or understocking, leading to more efficient inventory management processes and cost savings.
Opportunities for business growth
Embracing online shopping presents store owners with opportunities for significant business growth. By expanding their customer base beyond the local market, they can tap into a global audience and reach a larger pool of potential buyers. The ability to offer a wider product range and cater to niche markets gives store owners a competitive advantage over traditional brick-and-mortar retailers. Furthermore, online platforms provide valuable insights and analytics that can help store owners identify customer trends, refine marketing strategies, and optimize their overall business operations.
In conclusion, online shopping offers a plethora of benefits for both customers and store owners. The increased convenience of browsing and purchasing from anywhere, coupled with delivery and pickup options, revolutionizes the way we shop. The expanded product range and absence of shelf space limitations give customers access to a wider variety of products and unique offerings. Personalized shopping experiences, driven by tracking purchase history and preferences, provide tailored recommendations and offers that enhance the overall shopping journey. Improved inventory management ensures real-time updates on product availability and prevents stockouts. Customers benefit from time and effort savings, increased convenience, personalized recommendations, and easy access to products. Store owners, on the other hand, enjoy increased customer satisfaction, repeat business, improved inventory control, and opportunities for business growth. With these advantages, it's no wonder that online shopping continues to thrive and reshape the retail landscape.
Convenience stores are an integral part of our daily lives, but what if we could make them even more convenient?
In this video, we explore the benefits of integrating a convenience store with online shopping.
By combining the physical store experience with the ease and accessibility of online shopping, we can revolutionize the way we shop and provide a seamless shopping experience for customers.
With the integration of online shopping, convenience stores can offer increased convenience to their customers.
They can browse and purchase products from the convenience of their homes or on-the-go, and choose to have them delivered or pick them up from a nearby store.
This eliminates the need to physically visit the store and saves time and effort.
It's a win-win situation for both customers and store owners.
Integrating online shopping also expands the product range available in convenience stores.
Customers can access a wider variety of products, including those that may not be physically stocked in the store.
This opens up more options for customers and allows them to find exactly what they're looking for.
Say goodbye to limited shelf space and hello to endless possibilities!
ConvenienceStoreRevolution, onlineShoppingConvenience, seamlessShoppingExperience
Key Moments: