In the ever-evolving world of small businesses, finding the perfect virtual terminal to streamline operations and enhance customer experiences is vital. In this comprehensive article, we present the top seven virtual terminals tailored specifically for small businesses in 2023. By analyzing their features, ease of use, and affordability, we aim to equip you with the knowledge and insights necessary to make an informed decision when selecting the ideal virtual terminal for your business. From secure payment processing to intuitive user interfaces, embark on this journey as we explore the best options available and help you find the perfect fit for your small business.
PayPal Virtual Terminal
When it comes to virtual terminals for small businesses, PayPal Virtual Terminal is a popular choice for many. With its easy setup and integration process, you can start accepting payments in no time. Whether you operate an online business or have a physical store, PayPal Virtual Terminal provides great flexibility by accepting multiple payment methods, including credit cards, debit cards, and even PayPal payments. This not only makes it convenient for your customers but also increases your chances of closing a sale.
Another advantage of using PayPal Virtual Terminal is its mobile-friendly interface. It allows you to accept payments on the go, giving you the freedom to conduct business anywhere, anytime. Whether you're at a trade show, a pop-up shop, or delivering products to your customers, PayPal Virtual Terminal allows you to easily process transactions using your smartphone or tablet.
In addition to its ease of use and mobile-friendliness, PayPal offers reliable customer support. Should you encounter any issues or have questions about your virtual terminal, you can count on PayPal's customer support team to assist you in a timely manner. This level of support can make a significant difference in your overall experience and ensure smooth operations for your small business.
Square Virtual Terminal
Square Virtual Terminal is another popular choice among small businesses due to its simple and intuitive interface. Its user-friendly design makes it easy for anyone to navigate and start accepting payments with minimal training. This is particularly beneficial for business owners who may not have extensive technical knowledge or experience.
One standout feature of Square Virtual Terminal is its customizable receipt options. You can add your company logo, business information, and even personalized messages to create a unique and branded experience for your customers. This attention to detail can leave a lasting impression and enhance your professional image.
Furthermore, Square Virtual Terminal offers real-time inventory management, which is essential for businesses that require accurate tracking of their product stock. This feature allows you to stay on top of your inventory levels, ensuring that you never run out of essential items and can fulfill customer orders promptly. Additionally, the advanced reporting and analytics tools provided by Square help you gain valuable insights into your sales trends, customer behavior, and other key metrics, enabling you to make data-driven decisions for your business's growth.
Stripe Terminal
For small businesses that prioritize seamless integration with e-commerce platforms, Stripe Terminal is an ideal choice. Its developer-friendly nature allows for easy integration with popular e-commerce platforms, such as Shopify, WooCommerce, and Magento. This enables you to streamline your online and in-person transactions under one platform, eliminating the need for multiple systems and reducing the risk of errors.
Stripe Terminal also comes equipped with built-in fraud prevention measures, providing an added layer of security for your business and customers. With the increasing prevalence of online fraud, having robust fraud prevention measures in place is crucial. Stripe Terminal's proactive approach to security helps protect your business from potential fraudulent activities, safeguarding your reputation and minimizing financial risks.
Additionally, Stripe Terminal supports both online and in-person transactions, allowing you to offer a seamless payment experience to your customers regardless of their preferred shopping method. This versatility can help you cater to a wide range of customers and expand your customer base.
Shopify POS
Shopify POS is an all-in-one point-of-sale (POS) solution designed specifically for small businesses. Its integration with the Shopify online store platform makes it a popular choice among online retailers. With Shopify POS, you have the ability to synchronize your online store's inventory with the physical store, ensuring accurate and up-to-date product availability information. This synchronization helps prevent overselling or disappointing customers with out-of-stock items.
In addition to inventory management, Shopify POS offers robust order management capabilities. From processing orders to managing returns and exchanges, this virtual terminal simplifies the entire order fulfillment process. This feature is especially valuable for businesses that experience high transaction volumes or frequently deal with complex order requests.
Furthermore, Shopify POS includes customer relationship management (CRM) features that allow you to build and maintain relationships with your customers. You can collect customer data, track purchase history, and even send personalized marketing campaigns directly from the platform. This level of customer engagement can result in increased customer satisfaction, repeat purchases, and ultimately, business growth.
Amazon Pay Virtual Terminal
When it comes to trusted and secure payment processing, Amazon Pay Virtual Terminal is a top choice for many small businesses. Leveraging Amazon's reputation and expertise in e-commerce, this virtual terminal provides a secure environment for processing payments. With Amazon Pay Virtual Terminal, you can offer your customers a familiar and trusted payment method, enhancing their confidence in doing business with you.
One of the key benefits of using Amazon Pay Virtual Terminal is its seamless integration with Amazon services. If you already sell products on Amazon, adding Amazon Pay as a payment option can improve the overall shopping experience for your customers. They can use their existing Amazon account information, eliminating the need to create a new account or enter payment details manually. This convenience can lead to higher conversion rates and customer satisfaction.
Furthermore, Amazon Pay Virtual Terminal offers Fulfillment by Amazon (FBA) support. This means that if you utilize FBA to fulfill your orders, you can seamlessly sync your inventory and order management between your virtual terminal and the Amazon fulfillment centers. This integration streamlines your operations and ensures accurate order fulfillment, saving you time and reducing potential errors.
Additionally, Amazon Pay Virtual Terminal caters to multi-channel selling capabilities. Whether you sell through your website, social media platforms, or other online marketplaces, this virtual terminal allows you to consolidate all payments into a single account, simplifying your financial management and reducing administrative tasks.
Payline Virtual Terminal
Payline Virtual Terminal offers small businesses flexible payment acceptance options, making it a versatile choice for businesses with varying payment preferences. Whether your customers prefer credit cards, debit cards, electronic checks, or alternative payment methods, Payline Virtual Terminal supports a wide range of payment options, allowing you to accommodate diverse customer needs.
Another notable feature of Payline Virtual Terminal is its recurring billing options. If your business offers subscription-based services or recurring payments, this functionality can greatly simplify your billing process. You can set up automated recurring payments, reducing the need for manual invoice generation and payment collection. This not only saves you time and resources but also improves cash flow management for your business.
Furthermore, Payline Virtual Terminal provides comprehensive reporting tools to help you track and analyze your sales performance. From transaction history to revenue trends, these reporting capabilities offer valuable insights into your business's financial health. Armed with this information, you can make informed business decisions and identify growth opportunities.
Additionally, Payline Virtual Terminal boasts an easy-to-use interface. Even if you're not tech-savvy, you can quickly navigate and utilize the virtual terminal with minimal training. This user-friendly design ensures an efficient payment processing experience for both you and your customers.
Authorize.Net Virtual Terminal
Authorize.Net Virtual Terminal is a widely recognized virtual terminal that offers a wide range of payment acceptance options. From credit cards to electronic checks, Authorize.Net supports numerous payment methods, allowing you to cater to a diverse customer base. This flexibility is particularly beneficial for businesses that operate in industries where customers have varying payment preferences.
One standout feature of Authorize.Net Virtual Terminal is its advanced fraud detection and prevention measures. Fraud is a constant threat to businesses, and having robust security measures in place is essential. Authorize.Net utilizes advanced tools and technologies to identify and prevent fraudulent transactions, safeguarding your business and customers from potential financial losses.
Moreover, Authorize.Net Virtual Terminal offers subscription and billing management features. If your business offers subscription services or recurring billing, this functionality can streamline your billing and invoicing processes. You can set up automated recurring payments, send invoices, and easily manage customer subscriptions, saving you time and administrative resources.
Additionally, Authorize.Net Virtual Terminal seamlessly integrates with other business tools. Whether you use accounting software, customer relationship management (CRM) systems, or other essential tools, Authorize.Net offers integration options that allow for smooth data transfer and workflow automation. This integration capability increases the efficiency of your overall business operations and reduces the need for manual data entry.
Factors to Consider When Choosing a Virtual Terminal
When selecting a virtual terminal for your small business, there are several factors to consider. These factors will help you determine which solution best aligns with your business needs and goals.
Cost and pricing structure: Evaluate the pricing and fees associated with each virtual terminal. Consider whether the offered features and capabilities justify the cost.

Ease of use and user interface: A user-friendly interface simplifies the payment processing and reduces the learning curve for you and your employees.

Compatibility with existing systems: Ensure that the virtual terminal integrates smoothly with your existing systems, such as inventory management, accounting, and customer relationship management.

Security and fraud prevention measures: Look for virtual terminals that prioritize the security of transactions and offer robust fraud prevention tools to protect your business and customers.

Payment methods supported: Determine whether the virtual terminal supports the payment methods commonly used by your customers, such as credit cards, debit cards, or alternative payment methods.

Customer support and resources: Consider the level of customer support provided by the virtual terminal provider. Look for resources such as tutorials, documentation, and responsive customer support channels.

Reporting and analytics capabilities: Analyzing sales data and customer behavior is crucial for making informed business decisions. Look for virtual terminals that provide comprehensive reporting and analytics tools.

Mobile-friendliness: With the increasing use of mobile devices, having a mobile-friendly virtual terminal allows you to accept payments on the go and cater to customers' preferences.

Scalability and growth potential: Choose a virtual terminal that can accommodate your business's growth and scale as your needs evolve.

Integration with other business tools: Consider whether the virtual terminal can integrate with other essential business tools to streamline your overall operations and improve efficiency.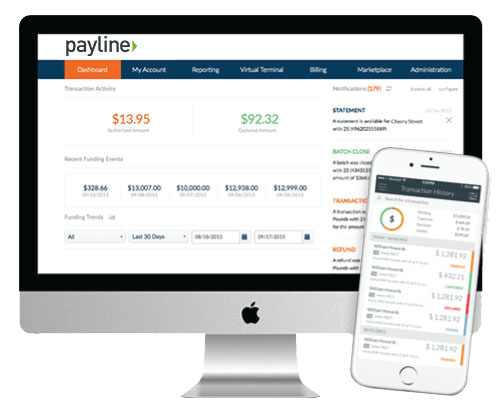 Conclusion
Selecting the best virtual terminal for your small business requires thoughtful consideration and evaluation of your business needs. By assessing factors such as cost, ease of use, compatibility, security, payment methods supported, customer support, reporting capabilities, mobile-friendliness, scalability, and integration potential, you can make an informed decision.
Remember, every business is unique, and what works for one may not work for another. Take the time to evaluate your specific requirements, prioritize your objectives, and choose a virtual terminal that aligns with your vision for success. With the right virtual terminal in place, you can streamline your payment processes, enhance customer experiences, and drive the growth of your small business.